Clueless and Our Collective Unconscious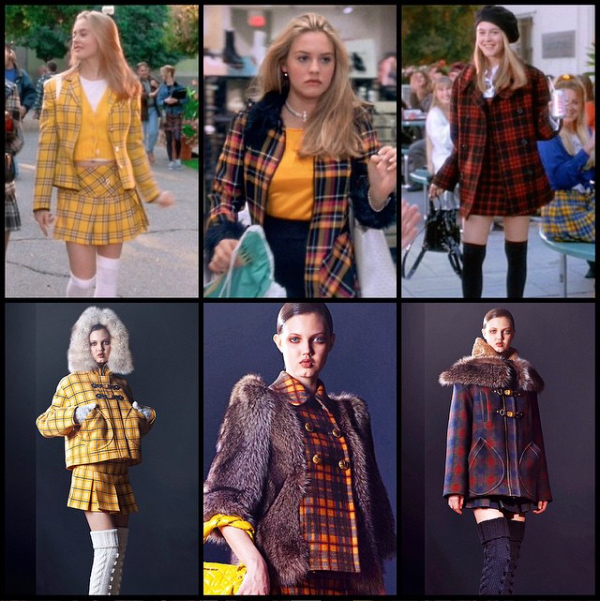 It's surprising how Clueless wasn't mentioned in the reviews post the release of Miuccia Prada's Miu Miu's 2010 Pre-Fall Collection. I live for watching movies and runway shows and spotting similarities, and Fashionista did eventually point out a Clueless reference in Miu Miu's yellow plaid number à la Cher (played by Alicia Silverstone), but seeing as this is my favorite movie and having all of the clothes ingrained permanently in my brain, I saw a lot more Clueless references after first glance. These looks make it pretty hard to believe there was not even the slightest bit of Clueless inspiration in Miuccia Prada's collection for Miu Miu.
Now this one is just for fun. It's from another collection by Miuccia Prada from that same year, this time for Prada Fall 2010 Ready-to-Wear Collection. I just thought these look nice when put side-by-side, I published this on my Instagram account.
Another collection I spotted similarities to Clueless was Alexander Wang's collection for H&M in 2014, specifically the P.E. class scene. Wang has named Clueless as one of his favorite films so this may be a case of him, like myself, having committed these looks to memory thus having it be a constant source of inspiration on even a subconscious level. I had a ton of fun doing this, so pardon the excessive amount of photos.
Clueless is seen in pop culture quite often, so I'm sure there are a lot more references out there, be it indirectly influenced or more directly like the examples below: Wildfox Couture's Spring 2013 campaign and Iggy Azalea's "Fancy" video.
https://youtu.be/O-zpOMYRi0w
Clueless (1995), Paramount Pictures | Costume Designer, Mona May | Director, Amy Heckerling.
© 2011 - 2015, Louise Junker.